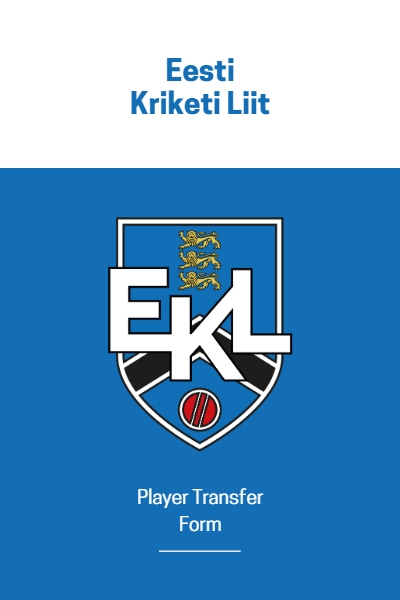 Transfer Rules
There will be transfer windows set by the Operations Manager. Clubs and Players will be informed of this with good notice.
Where possible windows will be in between leagues.
Process
Any player wishing to transfer must fill out the transfer form above and email it to [email protected] with both the club they are leaving and the club they are joining copied in.
If the player owes any fees to the club they are leaving, the club should provide proof of this to the Operations Manager. The transfer will still be completed, but the player will not be allowed to play until the debt is cleared.
Next Transfer Window
Men – 9:00AM Monday September 18 to 5:00PM Saturday September 30
Women – 9:00AM Monday September 18 to 5:00PM Saturday September 30
Men's Transfers March 2023
| Name | From | To |
| --- | --- | --- |
| Romeo Tanna | Tartu KK | Tallinn United |
| Archit nigam | Tallinn Riders | Tallinn United |
| Syed Ashgar | Tallinn Stallions | Tallinn Riders |
| Nahid Mannan | Eesti Tigers | Rising Stars |
| Farai Herbert Chitsa | Tartu KK | Rising Stars |
| Mursalin Hossain | Tartu KK | Rising Stars |
| Mahabubul Hasan | Rising Stars | Tallinn Riders |
| Rishikesh Ram | Eesti Tigers | Tallinn Riders |
| Usama Shikdar | Rising Stars | Tallinn Strikers |
| Sultan Mohmud | Eesti Tigers | Tallinn Strikers |
| Bilal Masud | Rising Stars | Tallinn Strikers |
| Ali Masood | Rising Stars | Tallinn Strikers |
| Mohammad Zisan | Rising Stars | Eesti Tigers |
| Chandru Manogaran | Tallinn United | Tallinn Riders |
| Ojus Tudavekar | Tartu KK | Tartu Wolves |
| Manish Gupta | Tartu KK | Tartu Wolves |
| Aditya Savio Paul | Tartu KK | Tallinn Stallions |
| Malcolm Sedgwick | Tallinna KK | Saaremaa KK |
| Saimoon Quazi | Tartu KK | Saaremaa KK |
| Rando Avarmaa | Tartu KK | Tallinn Stallions |
| Rahul Bhola | Tartu Wolves | Tartu KK |
Women's Transfers April 2023
| Name | From | To |
| --- | --- | --- |
| Ragne Hallik | Tallinna KK | Saaremaa KK |
| Svetla Gocheva | Tallinna KK | Tallinn Stallions |
| Lisa Bowring | Tallinna KK | Saaremaa KK |
| Natalia Tykhonravova | Tallinna KK | Saaremaa KK |
| Laima Dalbina | Tartu KK | Tallinn Stallions |
| Yulia Kravchuk | Tallinna KK | Saaremaa KK |
| Elen Kaplan | Tallinna KK | Saaremaa KK |
| Fatema Tarin | Tallinna KK | Tallinn Stallions |